145 - 192 de 973 resultados
About Canon AE-1
Showing slide {CURRENT_SLIDE} of {TOTAL_SLIDES}
Compatible with any FD or FDn lens.

Get creative with a range of interchangeable lenses on the Canon AE-1, including both fixed-focal length and zoom Canon FD lenses.

Innovative for its generation.

Take advantage of the battery-powered microprocessor, with the camera historically significant as the first SLR to utilize one.

Manual and auto exposure options.

Take full control while using manual exposure controls or let the camera do the hard work for you using shutter priority auto exposure.

Expansive viewfinder coverage.

Compose images through the split-image rangefinder, with the fixed eye-level pentaprism offering 96 percent horizontal coverage.
eBay has provided more information about this product above and is not affiliated with or endorsed by Canon.
Price Trends
Canon AE-1 - Price Used
Used Price*
from $101 to $111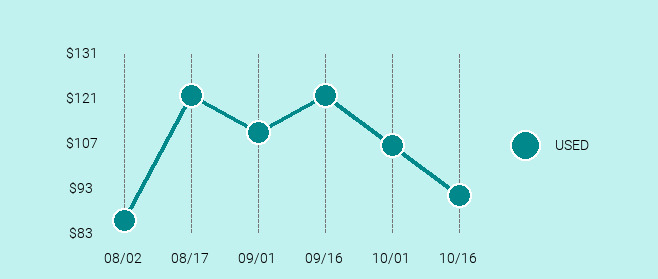 *The average sold price is calculated based on "Buy It Now" items sold within the 90 day period described above (excluding shipping and handling). Each interval represents a 15 day period. There is no guarantee that items will always be listed at a price within the provided range.
Compare Similar Models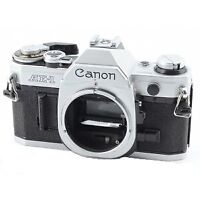 Canon AE-1
Autoexposure Modes
Shutter Priority
Maximum Shutter Speed
1/1000
Viewfinder Magnification
0.86x
Showing slide {CURRENT_SLIDE} of {TOTAL_SLIDES}
Top 4 High ratings
Top 2 Low ratings
Solid fundamentals with bonus auto features

Learning the basics of photography on this camera has been a pleasure, as a bonus even my amateur photos look nicer on film (to me anyway), , I only gave 4 stars because my experience with old SLRs isn't very deep, so I reserve the perfect score for later.

Verified purchase: Yes

I love this camera.

This camera was delivered in excellent condition and it functions flawlessly. I have owned three of these and they suit my photographic needs perfectly...grand kids, dogs, family get togethers. The 50mm f/1.4 gives excellent image quality and allows me to play with the depth of field. I prefer it to my Canon EOS, and I love the look of film.

Verified purchase: Yes

Nice camera at a good price

This is a vintage film camera., This camera looks very nice with the metallic finish. You can get an A1 ot F1 too, but they come in black and are more expensive., This is a vintage film camera.

Verified purchase: Yes

The Iconic Film Camera

This camera is what everyone thinks of when they hear film camera - and rightfully so. It's a staple piece of equipment in Canon's early days. It's reliable, beyond simple to operate and load film, and it has a really great light meter - I haven't needed to use an external meter. The program mode REALLY works. If you want to leisurely take photos, set it to program and let the camera select the best aperture and shutter speed - it hasn't disappointed me yet., , I also love how compact it is. I can take it anywhere - vacation, cabin, coffeeshop, park, downtown, etc., and I'm not afraid of damaging it., , And it looks incredible, let's be real., , The only con I can think of is that the maximum shutter speed reaches only 1/1000. However, it's not bad at all if you don't mind stopping down a bit or using a lower ISO/ASA film speed. This camera shines when using Portra 160, Portra 400 rated at 200, Kodak Ektar 100, Kodak Gold 200, and Cinestill 50D.

Verified purchase: Yes