Buscar por Sistema operativo
Diapositiva {CURRENT_SLIDE} de {TOTAL_SLIDES} - Buscar por Sistema operativo
Diapositiva {CURRENT_SLIDE} de {TOTAL_SLIDES} - Buscar por Red
About HTC One M8
Showing slide {CURRENT_SLIDE} of {TOTAL_SLIDES}
Brushed metal design.

Wrap-around unibody frame curved to fit your hand. Built to please your eyes.

Handheld innovation.

Stacked internal components allow a thin yet durable build.

Built to impress.

Crafted from the ground up, the HTC One (M8) features a bold, brushed metal design. Stacked internal components allow a mere 9.35 mm (0.37 inch) thin construction and a curved, ergonomic shape that fits your hand with natural ease.

Complete panoramas.

Simple tilt controls and levelling line help you capture the entire view. Impressive 180° by 360° views are a click away with Pan 360.

One-touch refocus.

Add professional results with UFocus™. Bring blurry objects into focus before or after you shoot.
eBay has provided more information about this product above and is not affiliated with or endorsed by HTC.
Price Trends
HTC One M8 - Price Used
Used Price*
from $43 to $75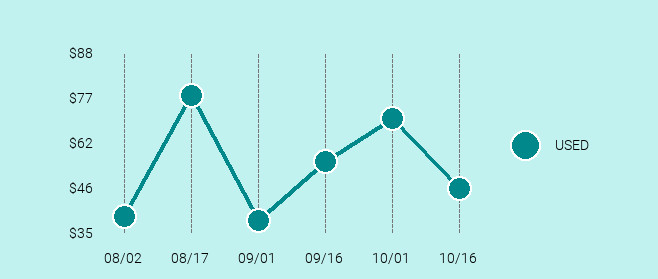 *The average sold price is calculated based on "Buy It Now" items sold within the 90 day period described above (excluding shipping and handling). Each interval represents a 15 day period. There is no guarantee that items will always be listed at a price within the provided range.
Compare Similar Models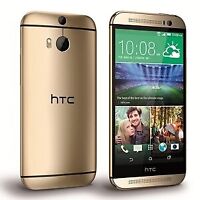 HTC One M8
Operating System
Android 4.4.2 (KitKat)
Resolution
1080x1920 pixels
Internal Memory
16/32GB ROM, 2GB RAM
Showing slide {CURRENT_SLIDE} of {TOTAL_SLIDES}
Top 5 High ratings
Top 5 Low ratings
It's still a quality phone for Windows 10 Mobile

If you're interested in a Windows Phone (and you're very technically-minded) you can actually get this phone upgraded from Win8.1 to Win10. Bear in mind that Microsoft seems to be winding down it's efforts in the Windows Phone space, but if you like Win10, this phone runs it quite well. Yes, you don't have anywhere near the number of available apps in the Windows Store compared with Android or Apple, but I'm one of those folks who does not want my every move reported home to Google or Apple or to some faceless app writer from whatever country. A "Faustian bargain" if there ever was one. Also, since the percentage of Windows Phones out there is quite low, you've got the "security through obscurity" thing going for you as well., , You won't be able to upgrade to Win10 mobile through the "front door" anymore, so you would need to look at something from the XDA-Developers website. I'm not allowed to put a direct link in here, but just search for WP8.1 To W10 Mobile and you should find the directions. Definitely not for the "faint of heart"., , If that Win8.1 to Win10 process from the XDA-Developers website seems too daunting for you (no judgment here - the process is quite geeky), you may want to pass on this because Microsoft is phasing out support for Win8.1 and you probably would want Win10 on this phone.

Verified purchase: Yes

I Really Like this Phone. . .

A Windows Phone is pretty much a Windows Phone. All of them are operationally Great and all any one really needs. But . . ., The HTC One M8 is so smooth and fast. The screen size is nice and looks great, too., The battery life is good. General use without the battery save running averages 26 hours. With the battery save running and normal use I got 3 days and 2 hours on a full charge., The camera's work well. So far I haven't had any red eye shots from the flash Like I've had with so many other cell phone cameras., My previous phone was a Nokia Lumia 822, which I was satisfied with and really hoped to hang onto for a while but I busted the screen., Moving from the 822 to the HTC One M8 was like moving from a Ford up to a Lincoln. The Ford is nice and runs well but the Lincoln is, oooh so much nicer.

Verified purchase: Yes

HTC M8 S-off. Good condition!

I received this smartphone within two weeks. That was fast. Now about the phone. He came to me in a simple cardboard box. At the case there is no scratches, and its build does not raise any problems., BUT there are several deep scratches on the power button, volume rocker slightly deformed, in the front camera glass has large dust particles inside, plus trays for the SIM card and SD card heavily covered with dust and shade different from the main body., Now about pluses. The phone is fully operational, has a strong reception of network signal and the working camera. Do not buggy and working fast, has SuperSID and also MID, indicating that he had previously belonged to the operator - Verzion. The bootloader has been unlocked by me through HTCDev site, after which the phone has been installed custom firmware with which it works great., I'm very glad I bought this phone here., p.s. Sound is really amazing., p.p.s. thanks for 2 data cables

Verified purchase: Yes

HTC ONE M8

... is, for the most part a windows 8 (though windows 8.1) phone that is left without the benefits and award winning selling factors of the LG G FLEX, though a windows phone it is and for the up to date electronics user, it is a good phone that can easily pair with XBOX ONE, windows computers though lacks in apps for everyday business such as YOUTUBE, and banking apps, though by going to ONENOTE and physically typing in the web address you can easily store and access all of the websites you would normally visit without a battery draining app, so then in closing I really like the HTC ONE M8 in that it is a phone 1st, and then a file-a-dex/address book/private portfolio of addresses, web addresses and phone numbers it is a little heavier then people would think it is though the camera features are great with photo edit for low light and the weight of the phone actually helps me remember that the phone is heavily built for the daily adventures and out of door uses of and for its users and not a stay in doors mini computer that has to be constantly babied and charged, though with the weight of the phone comes the easy to charge capability and numerous, numerous beautiful cases for every walk and adventure of life so that by the physical weight of the phone the user is ensured that they actually have a phone with great LTE coverage front and rear camera video and voice chat for capturing lifes expected, unexpected and adventurous moments with crystal clear clarity and photo enhancement for all of those occasions the user woulf normally believe to be lost due to poor lighting, so that I really like my HTC ONE M8 phone, and it has been an easy adventure to find out how to adjust from the LG G FLEX to the HTC ONE M8 and keep my apps/web addresses close at hand, over the phone for being a phone is a 9.25 out of 10.

Verified purchase: Yes

Awesome power/price ratio.

Like the HTC One M7 before it, the M8 is a great performance bargain for the price. The screen is just the right size, the metal housing feels very solid without being weighty. HTC has a good history of keeping the One line up to date as well, the M8 can be updated to Android 6.0 so you really don't need to buy a new phone just to stay current. The duo camera setup is nifty, it doesn't seem to do as well with macro photos but the focus and shutter speed times are awesome coming from the M7. The M8 even allows for extra storage in the form of MSD cards, which is nice to see as a fan of lossless audio., This really is a great phone for the price, if you're in the market for a budget super phone I cannot recommend the HTC One M8 enough. Pick one up, you won't be disappointed.

Verified purchase: Yes