About HTC One M9
Showing slide {CURRENT_SLIDE} of {TOTAL_SLIDES}
Premium perfection.

Dual-tone all-metal body features mirrored edges that are ergonomically tapered to effortlessly fit your grip. Its unibody back curves to achieve the streamlined look and feel of the iconic HTC One series smartphones.

Make it yours.

The HTC One M9 has more customizable options than ever. With the Themes app to change the look and feel of your phone with your favorite picture. The app picks colors from the photo and applies the theme to your wallpaper, icons, and more.

In a glance.

The HTC One M9 features an enhanced BlinkFeed that offers recommendations and links based on your location. Personalize a stream of online content in seconds, and stay updated in a glance.

Make them say "Wow!"

20 MP main camera with sapphire cover lens delivers crisp, clear photos and durable scratch resistance for long-lasting use. HTC Eye™ Experience software allows you to create Split Captures, take Voice Selfies, apply Live Makeup and more.

Sensational selfies.

The HTC One M9 has a front-facing camera with UltraPixel technology to take in more light for incredibly detailed selfies, both day and night. Its wide-angle lens captures a larger field of view, so you'll get all your friends with every shot.
eBay has provided more information about this product above and is not affiliated with or endorsed by HTC.
Price Trends
HTC One M9 - Price Used
Used Price*
from $53 to $75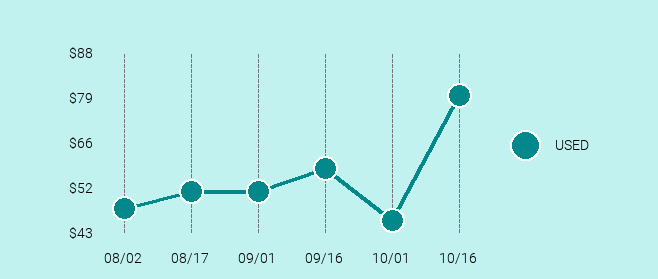 *The average sold price is calculated based on "Buy It Now" items sold within the 90 day period described above (excluding shipping and handling). Each interval represents a 15 day period. There is no guarantee that items will always be listed at a price within the provided range.
Compare Similar Models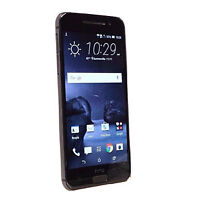 HTC One M9
Operating System
Android 5.0 (Lollipop)
Resolution
1080x1920 pixels
Internal Memory
32GB ROM, 3GB RAM
CPU
4 x 2.0GHz + 4 x 1.5GHz Octa-Core
Showing slide {CURRENT_SLIDE} of {TOTAL_SLIDES}
Top 5 High ratings
Top 5 Low ratings
Complex requirements

I needed what I needed, and this fits the bill pretty well. The thing is bigger than I really wanted, but the size I want is not popular anymore (Samsung S5 Mini)., It does not have stellar battery performance, but now that I have shut off most of the BS that HTC puts on the phone it lasts as long as the last one (Samsung S4 Mini)., I needed a truly T-Mobile phone, and I may still root the thing and add my own ROM, but I always make a point of giving the manufacturer's ROM a good test, because the aftermarket folks will never make one that covers all the requirements as well as the manufacturer working with the carrier., I absolutely MUST have WiFi calling, and that is one of those things where hardware and software must work together. (You can't expect it to just work on any unlocked phone.), The processing power and the on-board memory is a huge leap forward for me. That is great. If you can find a small phone anymore it is a kid-phone and has half the resources, unlike the Samsung Mini phones did., The sound is phenomenal, though that is not too important to me., The screen is too big, but for what it does it is also stellar., The price is very nice, since I will probably only have it for a year. (It may fall out of my pocket for being so damn big.), Covers are also cheap since anyone selling them is overstocked an looking to clear them out. You have to use Amazon or some online company that has access to old stock though. I got a new-in-box Otterbox with belt-clip for about $5 and then another slim bump-case style cover for another $7., , If you are not a lemming or member of the general public herd that must follow what the herd does, and spend upwards of $1000 over 2-3 years for the latest thing, then this might be for you., , But then again, there might not be any left by the time you read this., Mine was new-in-box.

Verified purchase: Yes

Often overlooked, High End Quality Phone

The HTC One M9 is a very well made metal cased premium phone. With 3GB of Ram and 32GB of on board storage, plus a Micro SD slot for up to 2TB, it is still a current contender. The casing back is slightly curved to fit comfortably in your hand while still giving you a secure hold. The 20MP rear camera takes high quality shots and the front facing "Boomsound w/Dolby" gives excellent sound reproduction from a small form factor. The Snapdragon 810 octa core 64bit processor speeds through daily chores., , Even though this phone is several generations back, it feels like a current contender. For the current price of a new HTC One M9, it is definitely worth taking a good look at.

Verified purchase: Yes

Better than the One M10...

I had a One M9 and "upgraded" to a 10. HUGE mistake. The One M9 has SO much better sound. The 9 has matching speakers at the top and bottom of the screen that face FORWARD. When you turn the phone sideways to watch videos, you get true stereo and much better bass response. The stereo effect is quite noticeable. The 9 sounds simply amazing for a phone. The 10 is as average sounding as any ordinary phone. The 9 also has an IR port. The 10 loses the great sound and the IR Port. I used the IR port constantly as I use the phone as a universal remote for the entertainment center and every tv in the house. I gave the 10 to my son and ordered a good used 9 off of ebay. Much happier with the 9!

Verified purchase: Yes

Another great phone

I have been an HTC fan for almost 10 years now. I stopped looking at other brands after buying my first. This phone has not disappointed me in that choice. This phone is a little larger that I had become used to, but it is lightweight., I love the gun metal coloring. The larger screen makes movies and videos easier to watch. My only drawback that I can state is never let it go down all the way on your charge. For some reason that will cost you time without your phone. Apparently, if there is any residual charge in there, once it' down past functioning, you will need to wait for that to dissipate totally before it will take a new charge. It took me a day of worry and frustration to learn that. I took it to a repair shop the next day. When they plugged it up it began to charge as if there were no problem at all. You know how the owner of the shop looked at me, right? My concern with any phone is quality. HTC has never failed me on that. This phone has all the bells and whistles I need, great internal storage, intuitive features with the calling app, google search, etc. For someone, like me, who keeps a phone for extended periods (I don't run to every "new" model.) knowing this will last until I do decide to change is a big plus. My last HTC, I kept for five years with no issues. You will like this phone, and the brand. Try it.

Verified purchase: Yes

The M9 is a SUPERB upgrade for an M7, but not an M8.

The HTC One M9 has a few great features that I wanted (so I bought a used one to upgrade for $270), including much faster processor and screen speed, much higher rez camera, and a newer version of Android. The downside: the screen color is not accurate, nor is the camera; the M8 produces a warmer picture and more accurate (I shot same scene from both and viewed on PC in Photoshop). Tiniest bit smaller than the M8 in the hand, the M9 is not worth paying full price for this phone if you are upgrading from an M8 (I suggest switching to Samsung if you want brand new and a big leap), but buying a used one in excellent condition at less than half price is good value, especially if you still have an M7 in use.

Verified purchase: Yes