Diapositiva {CURRENT_SLIDE} de {TOTAL_SLIDES} - Buscar por Red
Buscar por Capacidad de almacenamiento
About Samsung Galaxy J
Showing slide {CURRENT_SLIDE} of {TOTAL_SLIDES}
A phone with a unique feature, the "wefie."

Capture the entire group in one shot with a smartphone in the Galaxy J series. Automatically take a photo with a simple palm gesture.

Capture the world around you in a new light.

Blur out the background and make your subject be the focal point. Highlight your best features with selfie focus and beauty mode.

Watch videos in full HD resolution.

Enjoy your favorite shows in 1080 x 1920 HD video resolution on a Samsung Galaxy J series phone. Playback videos and binge watch last seasons hottest show.

Expandable capability for more storage.

Save more videos, pictures, and apps by upgrading with a microSD memory card. Turn your 16 GB phone into a 64 GB one.
eBay has provided more information about this product above and is not affiliated with or endorsed by Samsung.
Price Trends
Samsung Galaxy J - Price New and Used
New Price*
from $21 to $115
Used Price*
from $61 to $68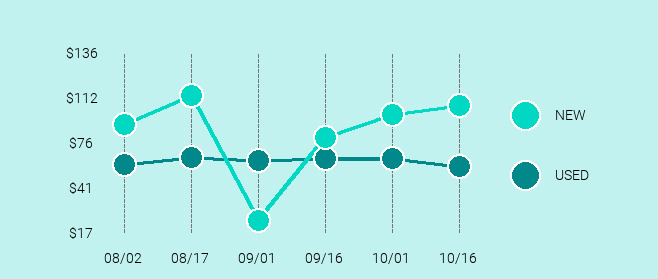 *The average sold price is calculated based on "Buy It Now" items sold within the 90 day period described above (excluding shipping and handling). Each interval represents a 15 day period. There is no guarantee that items will always be listed at a price within the provided range.
Top 5 High ratings
Top 5 Low ratings
Unexpected Surprise

I originally got this entry level Android phone as a placeholder for a BlackBerry KEYOne. Once I got the J3, it performed well for the basic tasks I used it compared with my LG V20. The J3 holds its own as a daily driver for lots less than the bling of its S7 Edge sibling. The J3's biggest problem is the mediocre camera. So long as the user has no need for gaming or using a great camera, then the J3 should be good for most users. For a "temporary" Android phone or one for a kid, then the J3 is for you. Keep in mind that any Android phone is probably good for up to two years anyway because it'll no longer receive software or security updates at that time.

Verified purchase: Yes

J3 Definitely Better than Core Prime

I purchased this about a month ago and find that it is a significant improvement over the previous Samsung phone I had which was the Core Prime. It is faster in touch response due to faster processor and the newer Lollipop OS is much better as well with less lock ups and does a better job operating with various apps. The internet access is much better and more reliable even though it is not a newer dual band. It's acceptable and can't fault that for the price of this phone which was no more than what I paid for the Core Prime a couple years ago. It also may be a consideration to purchase the latest A3 phone that will be released for 2017 and the preliminaries showed improvements but it was not clear yet how meaningful those updates will be for the. The biggest splash I noticed with this phone was the display and having an AMOLED screen is really nice and pretty in simple terms. Plus the screen is bigger and easier to navigate which also helps texting too which was a hassle before. Overall, I am very happy with this version of phone for the price and features and don't feel outed that I did not buy an S7 or iPhone since this is more than adequate for my needs. How could I not be happier only paying unlimited T,T, and 5 GB of data for only 35 a month...30 with autopay ! A great find in my opinion.

Verified purchase: Yes

Excellent Phone

For the money, I don't know you could find a better phone. Bought one for my wife as well. We love these phones. Put in 64GB microSD cards and have plenty of space. Could have went with the 128GB, but I doubt we would use that much space on our phones., , The phone is fast, runs smoothly, and runs big apps with ease. I've even tried out some heavy games and it runs without any issues. I have it Bluetoothed to a Huawei watch, car phone pairing, Bluetooth speaker, and home stereo system. They all work great with this phone., , If there is any downfall about this phone it's the lack of stability control software for the camera. It's easy to have blurry pictures because you move too much while taking the picture. Other than that, this phone is amazing!

Verified purchase: Yes

Samsung j7

This phone is awesome for a mid tier phone. Huge 720 def screen is plenty fine enough , dont need a 1080. It is faster than all get out with that octacore processor. I gave it a long battery life pro BUT you need to download a program to shut off or goto settings and disable the auto running samsung and google bs. I bought this to use on boost mobile, our family plan includes 10 gigabytes high speed data per month, the green program that shuts everything off also shuts of the wifi so you will have to restart it if your plan doesn't have that large a data cap ( technically it is an unlimited plan running at 2 g speeds after 10 gigs. If you are looking at sprint, you might consider boost which is partners of or a downshoot of sprint, it is prepaid but you cant find a 2 phone unlim text unlim calling 10 gig data per line plan anywhere near the current price of $65 note when we got on board it was $60 with a $5 credit for downloading their app to watch ads. That app has to be on the phone and can be disabled. Meaning we pay $55 a month for two phones unlim everything with 10 gigs data per month each line.

Verified purchase: Yes

Wonderful Phone

This phone is awesome! I bought it for my daughter and she absolutely loves it. The only gripe I have is that I was told by the seller that this was the 2016 version, but it's not; I wish I would have known before buying a case for it. I bought a 2016 case, but it did not fit and had to get the one for the regular model. All in all, none of that takes away from the phone. It is awesome for the money and has the latest Android update (Marshmallow). I would purchase from this seller again! If you are thinking about purchasing a phone that has awesome features, and won't break the bank, then the Samsung Galaxy J7 is for you.

Verified purchase: Yes